Oil Service Program
Stop By Today for Quality Auto Repair Work by ASE Certified Technicians!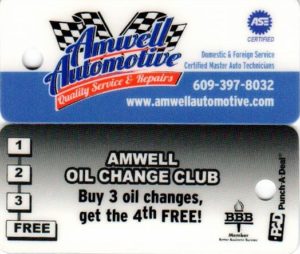 Purchase 3 oil changes and get the 4th one free! Pick up a punch card at the shop.
Client Referral Program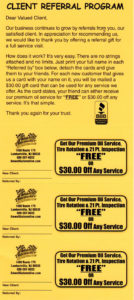 Our business continues to grow by referals from you, our satisfied client. In appreciation for recommending us, we would like to thank you by offering a referral gift for a full service visit.
How does it work? It's very easy. There are no strings attached and no limits. Just print your full name in each "Referred by" box below, detach the cards and give them to your friends. For each new customer that gives us a card with your name on it, you will be mailed a $30 gift card that can be used for any service we offer. As the card states, your friend can either receive our premium oil service for "FREE" or $30 off any service. It's that simple.